Raise Your Voice: How to optimise your website for voice search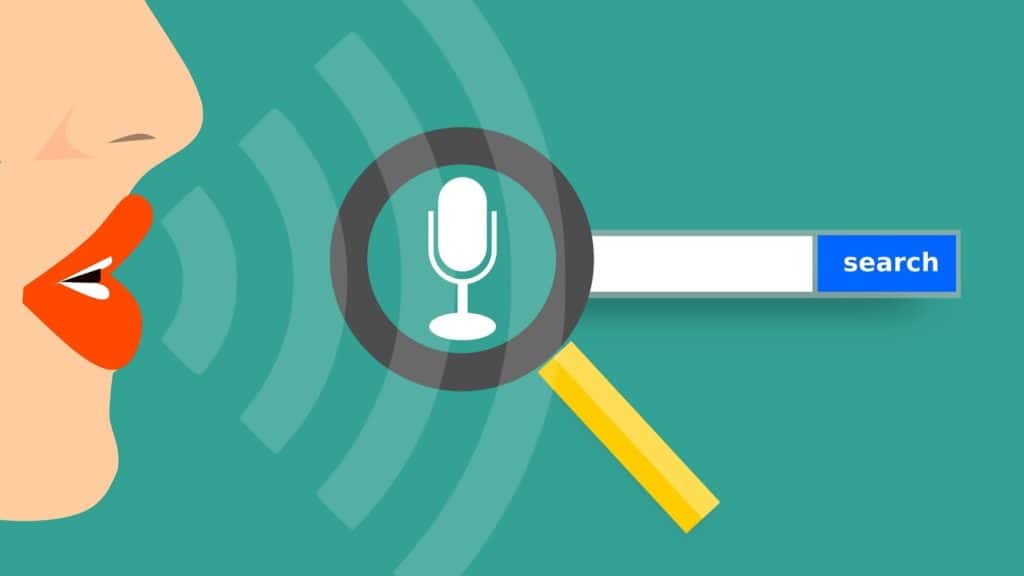 From Hal in 2001: A Space Odyssey to Samantha in Her, movies have long envisaged a future where talkative technology is par for the course. But this isn't just the usual Hollywood histrionics that we've come to expect; this is our reality today.
People all over the world are now talking to their phones, TVs and speakers as if they were their all-knowing, subservient friends. As the sales of smart devices continue to soar and as even more of the world's population become fused to their mobile devices, this trend for voice assistance has only just started to clear its throat.
Understanding the evolution of consumer behaviour is crucial for businesses to stay connected to their customers. When it comes to digital marketing, voice search is a force to be reckoned with.
What is voice search?
Voice search is a method of searching the internet in which users use a voice command to search for an answer to their query (as opposed to the traditional method of typing it out). Voice search combines speech recognition technology with search engine data to provide a hands-free searching experience.
Increasing popularity of voice search
Juniper Research expects the use of digital voice assistants to triple in the period 2018-2023. That means that we'll have around 8 billion voice assistants for us to talk to in only a few years (which is conveniently going to be around one per person). And that's just voice assistants – we haven't even started on smart home devices, talking watches, voice-controlled cars, etc.
Whatever way you look at it, voice search is here to stay. And it's easy to see why: voice search is fast, it's convenient and, in an age of deadly viruses, it's hands-free!
"Voice user interface allows users to interact with websites through voice commands so it adds usability and functionality to your site making it accessible to all users including those with limitations and disabilities. It is not just about complying with the ADA, responsible web design and corporate social responsibility goals but it is also good for the bottom line by reaching a broader audience. Inclusion is the right thing to do and it is good for business."

Paige Arnof-Fenn, Founder of Mavens & Moguls
So, how do you optimise your website for voice search?
It's a great question and one that every company serious about longevity must ask. As with any other form of SEO, in order to answer this question we must first understand the behaviour of the searcher.
Characteristics of voice search
Searches are typically long-tail and conversational – People using voice search tend to use full sentences, mostly in the form of questions that are conversational in tone. So for example, whereas a traditional searcher might type out "David Attenborough birthday", someone using voice search would ask "When is Dave Attenborough's birthday?". (It's the 8th of May, we insist you send him a card).
Search results are succinct and direct – Voice searchers don't want to read or listen to long, detailed answers. Typically, their queries have relatively straightforward results that can be answered in one or two sentences. That's why most results for voice searches are featured snippets, which provide succinct and immediate answers.
Local search is particularly popular with voice search – Back in 2018, BrightLocal found that roughly 58% of consumers used voice search to find information about local businesses. The majority of these searches are performed when users are on the move using their mobile devices. Voice search and mobile go hand in hand, and it won't be long before our public spaces resound with the noise of people asking their smartphones for the "best vegan cafe near me".
"Voice search is growing due to the increased use of mobile phones. Due to this, every website has to be optimized for mobile, which includes responsive design, optimized content for featured snippets, FAQs, and fast loading. The Google ranking on mobile phones only differs on the basis of user experience because some sites look good on desktop but they don't optimize for mobile, as a result despite having good content they don't get ranked on mobile."

Saqib Ahmed, Product Marketing Lead at PureVPN.
So now we know the main characteristics of voice search, it's time to see how we can optimise our websites accordingly. Here follows our guide to voice search optimisation and the best strategies for effective voice search SEO. Let's start with a definition...
What is voice search SEO?
Voice search SEO is the optimisation of websites to provide the best results for voice searches, i.e. users using voice commands to search via voice assistants, smartphones and various other voice controlled smart devices. Voice search SEO primarily focuses on providing immediate, succinct answers to long-tail, question-based search queries.
What search engines do voice & digital assistants use?
Siri's default search engine is Google but you can tell Siri to use other search engines if you'd prefer to source information from elsewhere.
Amazon's Alexa (and Echo) exclusively use Bing as their search engine. This means that (if you aren't already) you should be optimising your website for Bing as well as Google search. Bing Webmaster Tools are very helpful in this regard.
Cortana also uses Bing as its exclusive search engine. This is no surprise given that both Cortana and Bing are Microsoft creations.
Google Assistant (and Google Now), unsurprisingly, use Google to scour the internet for answers to its users' search queries. No points for guessing this one correctly.
Top strategies to optimise content for voice search
Understand your target audience and their search behaviour
First things first, if you are to successfully connect with your customers, you need to understand who they are and how they behave.
On the face of it, voice search optimisation may seem more beneficial for some websites over others, such as local businesses. However, no matter what type of business you are, data-driven consumer insights can help you identify opportunities for voice search in your marketing strategy.
"The days when people are asking significant commercial queries via Google Voice or Alexa are still ahead of us, but we'll see it rise over time. The younger generation, in particular, is growing up accustomed to it."

David Cusick, Senior Editor at House Method.
Target long-tail, question-based keywords
As with all forms of SEO, you need to think about the language that searchers are using. The research shows that voice searchers use long-tail keywords to search and mostly phrase their queries in conversational questions. This type of language will need to be targeted when you come to optimise the content on your website.
Another fundamental SEO consideration is searcher intent. Questions used in voice searches are a great indicator of where the searcher is in terms of the sales funnel. "What/who/how" questions typically show the searcher is in the discovery or research phase, while "when/where" queries tend to be from searchers who are almost ready to act. Being able to target your content to the different levels of the sales funnel will be instrumental in implementing a successful voice SEO strategy.
"Another key thing in the way the content will be structured is the integration of voice search keywords into the content. With the rise of AI tools and devices that favor voice search, the syntax (the structure of keywords) changes. For example, if you want to search for marketing trends in 2020 on your computer, you'll use the keywords such as "2020 marketing trends", but if you're using voice search, you'll ask in a full sentence "what are the hottest marketing trends for 2020". The change in keyword syntax will influence the content itself, with less noticeable keyword phrases for the reader (something to look forward to!)"

Tom Winter, Chief Revenue Officer at DevSkiller.
Restructure content for both succinctness and detail
Search engines love to present short, snappy answers to straightforward questions but they also love lengthy, rich content that provides detail and substance to users. A 'best of both worlds' solution to this is to provide a direct, succinct answer to a particular query at the top of your page and then elaborate on the topic with more detail below. The succinct information at the top is great for voice search optimisation, featured snippets and knowledge graphs, while the rest of the detailed content is great for traditional SEO.
FAQs are another great feature to optimise content for voice search. In a similar vein to the content structure mentioned above, use FAQs on your product, service and blog pages to supplement longer form content. Always remember to use well researched, keyword data-driven headings and subheadings for content too.
Utilise structured data
Give your content the best chance of being ranked highly by utilising structured data, also known as schema markup. Structured data is essentially code that highlights specific sections of a webpage for search engine crawlers. There are various types of schema but the most relevant for voice search optimisation are FAQ and LocalBusiness schema.
FAQ schema is great for targeting featured snippet positions and quick answer rankings, which is a must-have for voice search SEO. LocalBusiness schema will signpost essential information about your business such as location, contact information and opening hours. This type of information is typically what searchers are looking for when searching for local businesses.
"Make sure to structure the data on your page if you want to have a chance to be featured in voice search. The more structured data you provide in your post, specifically under structured questions, the more chance your data and site will be the one voiced in voice search."

Stacy Caprio, Founder at her.ceo
Improve page speeds
Google has repeatedly stressed the importance of fast websites in providing the best possible search results to users, particularly when it comes to mobile search. As we've already established, mobile search and voice search are inextricably linked so it's crucial that you optimise your website's load times. As well as ensuring you have a mobile responsive website, there are a variety of great tools to help you make further page speed optimisation, such as Google's own PageSpeed Insights.
Slow page speeds are bad news for UX, bounce rates and conversion rates, and search engine crawlers will quickly abandon websites that take too long to load. While page speed optimisation is necessary for a variety of reasons, it's even more important for voice SEO where the expectation for immediate results is at its highest.
Optimise your website for local searches
As we've mentioned several times already, local searches currently predominate voice search queries. One of the best ways to optimise your website for local voice searches is to leverage your Google My Business profile. Ensure that all of your business information is correct and up-to-date, and don't forget to list all of your locations if you operate in more than one area. (Don't forget to cover all bases by listing your company on Yahoo Local and Bing Places for Business).
Another way to optimise your website for local voice searches is to target local keywords. This is a great way to rank for hyper-local, "near me" style searches on mobile.
In summary
Voice technology has already come a long way in a very short space of time. From the early days of simple voice recognition to today's voice understanding and interfacing, it's an exciting development in tech-led consumer behaviour that we're all going to have to cater to or suffer the consequences.
Even if voice search is not a priority for you at this moment in time, you can bet your bottom dollar that it will provide some interesting opportunities (or challenges) in the years to come. With the voice search strategies we've covered in this article and your own data driven insights, you'll be ahead of the game in no time.