Bill Gatesify your CEO for your B2B tech PR/marketing strategy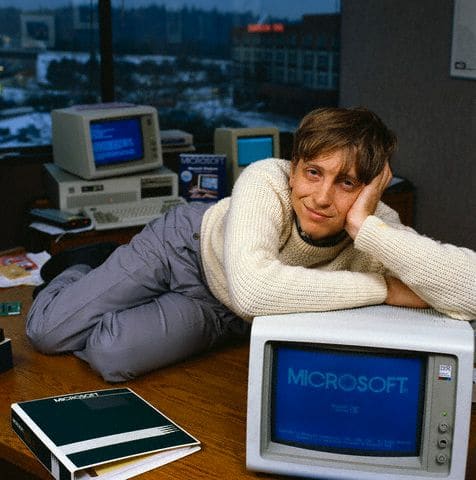 Bill Gates and Microsoft are like salt and pepper. Two names intertwined in your mind; they're great on their own but better together.

An organisation can provide a platform for a CEO to influence, and a CEO can provide personality to a brand. Without Bill, Microsoft wouldn't have as much flavour and without Microsoft, Bill would be your average tech-loving man. You just can't think of one without thinking about the other.
People like to follow people. They want to admire, aspire and be inspired by others. What if you could get your target audience to admire your organisation and aspire to work there while you inspire people to use your products?
That's what Bill Gates and Microsoft did. You might not have $129.3b and a trillion dollar tech company but you can do it too. Just use your CEO for B2B tech PR.
Benefits of CEO PR for B2B tech marketing:
Trust is attributed from your CEO to your organisation and vice versa. Trust is of utmost importance in B2B relationships that often require ongoing loyalty
You can boost brand awareness amongst your target industries by getting your organisation's name seen and heard
You can generate leads by putting your organisation in front of your target market
CEO PR positions your organisation as thought leaders within your tech category to build a strong reputation. You can be a successful thought leader by offering value for nothing in return
It presents opportunities to educate about pain points and the solution you offer
As SEO is of ever-growing importance in digital marketing, B2B tech PR can build links to your website
CEO PR humanises your brand and creates an emotional bond between you and your customers. Emotion is a driving factor in decision-making, even in B2B
Read on to learn more about PR strategies you can use to leverage your CEO, with tips to get you started in the right direction. Including social media, podcasts, becoming an author, events and partnerships.
Disclaimer: Microsoft doesn't just leverage Bill Gates. They have over 200 well-known employees representing and advocating for their products. So be sure to use your CMOs, CFOs, developers, designers and product leads too. In this article, CEO is an example of someone in your organisation that you can do B2B PR for, but feel free to showcase all your employees!
How do you Bill Gatesify your CEO?
Social Media
Compare the amount of followers that Bill Gates and Microsoft have on Linkedin. Bill Gates trumps his own company by far! Proving the power of influencer marketing and CEO representation.
Like any social media strategy, you'll want your CEO to post high quality content on multiple social channels frequently. Go where your customers are. Don't spend time and resources on generating creative imagery for Instagram if your customers and target audience prefer topical tweets.
For example, Bill Gates did an 'Ask Me Anything' session on Reddit, where a lot of tech-heads tend to loiter online.
He took the opportunity to spread his message about climate change:
And keep things lighthearted:
Social media is an effective way for your CEO to connect one on one with an audience, use their own voice and build a personal following. Ideally they will become an influencer in their own right as they continuously provide value, gain trust and earn support.
The intertwining of CEO and organisation should be well balanced. If your CEO is only ever talking about their organisation, followers will feel like they're being advertised to and the content will seem less genuine.
Content ideas for your CEO's social media posts:
Unique perspectives of the industry that will differentiate your CEO from others
Appreciation posts for employees to show off a healthy work culture with a supportive leader
Transparent posts about challenges and how they've overcome them. This will humanise your CEO and garner empathy
Reflections on past successes so that readers are inspired to replicate and take on their own goals
Insights into your organisation's plans and objectives for the future, to ignite and engage in industry trends
Take a headshot, start by following relevant accounts and remember to keep their social media channels up close and personal.
Feature on podcasts
Old Bill has been on some of the world's most popular podcasts like Ted, HBR ideacast and Vox Conversations.
Chances are there are loads of podcasts relevant to your industry, with potential customers ready and waiting to listen to your CEO.
Podcasts are the perfect opportunity to present your CEO as an expert in their field and reach your target market to boost brand awareness and generate inbound leads.
Podcasts are especially effective because they appear to be personal and have high audience engagement. In listening to podcasts, audiences feel more connected to the speaker than if they were reading a blog post or watching an ad. Often they require more attention from the consumer.
Approach relevant podcasts with a few captivating episode ideas that your CEO feels comfortable speaking on. Think bold, brave and interesting to capture attention while providing the opportunity to sneak in discussion of your organisation's mission.
Make sure the topics aren't ones the podcast has already used, because presenting repeated ideas will make you seem unresearched and less interested.
Once released, blast the episode from your company social media channels. This is definitely an achievement you and your CEO should be proud of!
What's better than appearing on other podcasts? Starting your own! Like Bill Gates' new podcast with Rashida Jones.
Learn the first steps you should take in creating a podcast as part of your B2B tech marketing strategy here.
Become an author
Just like Bill on his blog Gates Notes, your CEO probably has a lot to say about topics within their industry.
Instead of putting your employees' blog posts on your own organisation's website, consider posting them on industry publications where they might be seen by a wider audience. This is also a great way to generate links back to your website to boost SEO ranking from larger publications.
Find out where your target market gets their industry news to know which publications you should approach. Learn about current trends and think of catchy titles so that your articles stand out amongst the others when published.
Most publications provide the opportunity to register as a contributor so your CEO can become an established author. This works well because readers will see their name often on the website, and they might click on the author profile to find their job title and social media profiles.
Host events
At the Windows 95 launch in 1995 the biggest talking point wasn't the new Microsoft product, it was our pal Bill having a boogie. Nearly 5 million other YouTube users agree.
Bill was the star of the show. He was relatable, funny and like an 'awkward kid trying to blend in a party' according to one commenter in 2021.
B2B tech marketers know that events, virtual or physical, are all the rage. Events are a great way for B2B audiences to connect with others, learn new skills and expand their careers.
Try producing a webinar -
It's fair to say that audiences are feeling webinar fatigue. But webinars are popular for good reason! They encourage participation through Q&As and make your audience feel involved in the conversation, especially when it's live. Your CEO can moderate a selection of experts on a panel, or present a case study of a recent achievement to inspire others.
Try producing a conference -
It's a large endeavour, but a conference can prove highly fruitful. It's even easier in 2021 when you can host a large event virtually on platforms like Hopin. Your CEO can provide opening and closing remarks, and host their own sessions in between guest speaker presentations.
When you plan an event put your CEO at the forefront. Tag them in promotional posts, include their headshot on event banners and have them lead the event on the day.
Partner with other organisations
There's a good reason Bill Gates shouts loud about his efforts to tackle climate change. Social and environmental advocacy reflects positively on individuals and organisations.
Corporate social responsibility should already be ingrained in your marketing strategy if you want to keep up in a modern digital marketplace. Now is the time to attach the face of your CEO.
Tying your CEO to a charity of their interest can showcase your organisation's values and strengthen their reputation as a leader.
Consult your CEO on what initiatives they feel passionate about, and at the same time represent your company mission. Without a genuine emotional tie to the charity, both your CEO and their followers won't believe in their efforts.
Charitable PR could involve volunteer work, advocacy through their platform and monetary donations.
Corporate and charity partnerships are now about more than gifting big cheques. Research by Lloyd's Bank found that 70% of the companies they helped gave to charities strategically, and less than 20% gave in ad-hoc donations. Consumers want to see organisations working together in a strong collaboration.
Overall, the use of your CEO for B2B tech PR can drive brand awareness and create a platform for influence. Through the use of social media, podcasts, blogs, events and partnerships, your CEO could be the next Bill Gates and your B2B tech company could be the next Microsoft. Go forth and do PR!
To learn the 5 inbound marketing channels you should be using in your B2B tech marketing strategy, head here.