B2B Digital Marketing: A Beginners Guide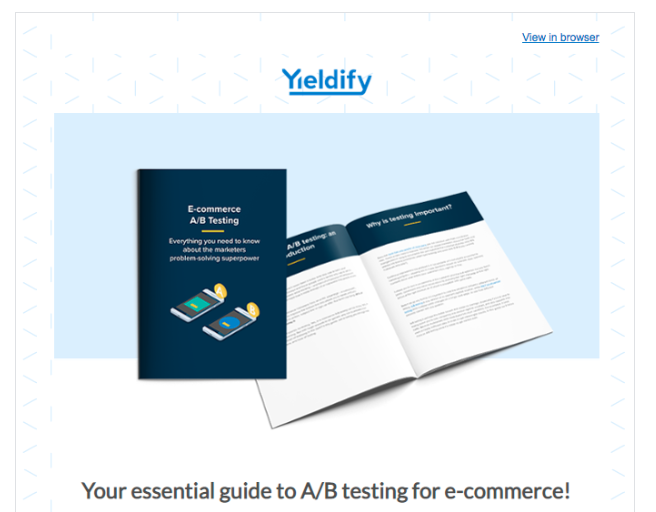 If you're reading this then you probably already work for or are about to start working for a B2B company. In this guide, I'll take you through what B2B Digital Marketing can mean for different companies and the types of skills that are required and the strategies that are used by Digital Marketers in modern B2B companies.
Contents
What is B2B Digital Marketing?
B2B Digital Marketing includes your typical digital marketing activities such as SEO, PPC, Email Marketing & Content Marketing but under a B2B umbrella, this means marketing to other businesses rather than individuals.
B2B digital marketing is usually focused on lead generation, this typically means someone getting in touch with your company via a contact form on your website or signing up for a demonstration or free trial is you are selling a technology or software product.
Because the buyer journey for B2B companies vs B2C companies is typically much longer and of a higher order value, B2B digital marketing strategies need to be a lot more strategic and built for a lengthy buyer process. Content is usually the core of any successful B2B digital marketing strategy.
To be successful in B2B digital marketing you will need a deep understanding of your audience and the problems they are trying to solve. This is why most strategies begin by looking at your buyer personas and their problems.
9 B2B Digital Marketing Tactics
Here is by no means an exhaustive list of some of the digital marketing tactics commonly used as part of a B2B digital marketing strategy.
Email Marketing
Marketing Automation
Data and CRM Management
Social Media Marketing
Website Design & Development
HTML & CSS Coding
3 Common Traits of Start-up B2B Businesses
If you have worked in a growing B2B business before then you may recognise these 3 common traits of a growing B2B business.
1.Tribal Knowledge Rules
Tribal knowledge is any unwritten information that is not commonly known by others within a company. This term is used most when referencing information that may need to be known by others in order to produce quality product or service.
For example who your Ideal Client Profile is, who your buyer personas are and what your qualification criteria is. This type of information is often in the heads of the staff who know the business and the industry well.
The main problem with tribal knowledge is that it's not very scalable. Your new staff have a steep learning curve and are too reliant on employees with this knowledge. It can be a big problem for content marketing in B2B businesses as writers have to rely on downloading information from other employees.
2.Bootstrapped Websites
Commonly a lot of businesses are using tools such as SquareSpace and Free Wordpress Themes to build sites for their business for a low cost.
The problems often come when you try to fit your content to a template or theme that doesn't work well with what you want to say or do. Often these websites are also poorly integrated with any other platforms used like your CRM system.
This is not such a big issue in the beginning but as your company grows these problems can become bigger and bigger, especially if you are thinking about automating any of your marketing activities to become more efficient.
3. Small Marketing Teams
Often growing B2B businesses, especially technology businesses have very small marketing teams that can often consist of just 1 person. This person is usually a senior marketer brought on-board as a CMO to build an internal marketing team from scratch.
More and more smaller B2B businesses are employing part-time or on-demand CMOs to come in and help them build out the marketing function. There are benefits to this because it means you don't have to take the risk of investing in a full-time employee but you can still get the experience of a senior marketer who has done it before.
Once a team starts to grow, often the first skills that are desired in B2B marketing teams are digital marketing specialists. A CMO usually doesn't have the time or often some of the specialist digital marketing skills to do everything required to help grow the business on a tactical level. That's why digital marketing specialists are in high demand in growing B2B businesses.
B2B Digital Marketing & Growth Marketing
If you are thinking about hiring, or are looking at working in Digital Marketing in a B2B business then you may have seen the word Growth used a lot. It has become a popular term used to describe the role of sales, marketing and the product team in a growing business. It's especially common in SaaS companies where the lines are more blurred between the departments.
Because the term Head of Growth is more generic than Head of Digital you find a mixture of people with varied backgrounds working in this role. Some will be more sales focused and some may be more technically savvy. It's worth considering which you are and what your company needs when hiring because it can have a huge impact on your business.
5 Examples of Digital Marketing Tactics
As previously mentioned, most companies are all doing the same thing, or are at least thinking about doing it. There are no mysteries in Digital Marketing for a B2B business. Here are 5 common B2B digital marketing tactics that are used in B2B marketing.
1. Paid Email Marketing
Paid email marketing is when you work with an industry publication or supplier that has a large email database and usually sends out weekly/daily emails and you basically pay to either send a whole email to that database, or you get a space in their newsletter.
One of the main objectives of B2B and B2C Digital Marketing is to grow your email list. Billion dollar businesses are built from building huge email lists. But when you start out, it takes time for this to happen and sometimes your industry is very niche and it's difficult to get in front of the right people, this why paying for access to other peoples lists can be su
Paid Email Marketing is also very predictable in terms of cost per lead as you will usually pay a fixed fee for the email. Once you have done it a few times you can get a rough idea of how many leads you are likely to get.
These paid email campaigns rely on having a piece of content that is useful to the target audience. The main CTA is to download the content. If you are looking for inspiration or examples of email designs then take a look at reallygoodemails.com.
An example of how it can work.
Pay publication for a email to be sent to their database with a piece of downloadable content "Your essential guide to A/B testing for e-commerce"
The prospect clicks on the link - they are then taken to your landing page, where they enter their email address and it downloads the piece of content.
Their email address is now in your CRM system - next steps could be a drip email campaign or some other form of lead nurturing or marketing automation campaign.
2. Blogging for SEO
This is something everyone does (usually). It's SEO focused Content Marketing or Inbound Marketing. Whatever you want to call it, the aim is to attract visitors to your website through blogging about topics related to your product or service.
This is usually the most popular tactic used in B2B Digital Marketing because it is cheap and can have a huge ROI because the traffic is relevant and they are interested in what you have to say (if done correctly).
The key to content marketing is making sure your keyword research is correct, and keyword research usually comes under the umbrella of SEO.
How to get your keyword research right
To make sure you are targeting the right keywords you can use a tool like SEMRush or a free tool like UberSuggest to review your keywords. You should be thinking about what your key personas are searching for, what are the problems they are trying to solve? What might they find useful?
An example might be that if you sell Marketing Automation Software, you blog around marketing automation topics like: "How to setup marketing automation in HubSpot" or "What is Marketing Automation?".
My biggest tip for B2B blogging...
Long-form, in-depth and relevant content. Gone are the days of 500-word blog posts once a week. Your content needs to be in-depth - we're talking 2000 words plus. Think of it as something you can constantly add to overtime adding in more relevant information as you go along. The more useful the content is the better.
3. Video Demonstrations & Explainers
Now, this doesn't seem like a digital marketing tactic. But video demonstrations of your software/service or product are key to answering the questions your prospects have when they visit your B2B Website.
Video is a very popular format, especially in the age of Twitch Streamers, YouTubers and Instagram Live Streams.
A video can be a good way to: explain how your product works in 60 seconds or build the brand perception around the types of users you have.
Using cheap animation companies.
If you work in a growing B2B business budgets can be tight and being honest, producing great video content can be expensive. Lots of B2B companies use cheap animation companies to make explainer videos on the home page. Rather than using animation to do this, if you are on a tight budget I would recommend just filming a talking head of someone in your business explaining what you do - people appreciate realism.
If you are looking for tips and how to's when it comes to filming good video content then I would recommend checking out Wistia. They are great at video marketing and their blog is full of useful content.
Video testimonials are convincing
I would also recommend using video content to film testimonials from your customers if you can. Having a 'real person' speak up on your behalf is one of the most important things you can do to influence a prospects decision.
Anyone can write a testimonial on a page, but having the person on camera speaking up is very convincing. Case studies are often one of the most viewed pieces of content on your website, people want social proof.
4. Integrated Direct Mail Campaigns
Now you might think Direct Mail falls under offline marketing tactics - but the truth is that if you are a Growth Marketing Manager or Digital Marketing Manager you need to play a part in Account-Based Marketing (ABM) tactics like integrated Direct Mail campaigns.
Account-Based Marketing (ABM) and Direct Mail go hand-in-hand. They are usually reserved for when you know exactly who you want as a customer and you are willing to spend a certain amount of money to obtain them.
Here is an example of Oracle investing some budget in Direct Mail...
As an example you may be willing to spend £500 per pack for 20 target customers at a total cost of £10,000. If you turn one of those prospects into a customer that is worth £30,000 a year in license fees then have proved ROI for what seems like a lot of upfront cost.
These types of decisions require you to understand the lifetime value (LTV) of a customer to your business so you can start to calculate what the cost of acquiring (CAC) that customer should be
How to do it?
Start with a list of target clients. Your wish list. Think in terms of the logos you would like to have on your website underneath the 'clients' section. Then go prospecting, try and find a good point of contact or a few contacts at the business who fit your buyer personas. Make a list of these contacts and get the mailing address of the office they work at.
Then make the direct mail pack. This is where you need some creativity, think of what the 'campaign' is about, what's the message? Try and come up with something that resonates and include some free gift that will hang around the office for a while to ensure you stay on the prospects radar.
Here is where the digital marketing bit comes in. Include a link to some sort of landing page that links to an offer you have included in the direct mail pack. This could be something like, get a free t-shirt for your whole office by filling out these details etc.
Any direct mail campaign you do as part of a form of Account Based Marketing should be backed up by some digital assets that converts the prospects into leads into your chosen CRM System.
5. Paid Social advertising with content
PPC or Pay Per Click is used a fair amount in B2B Digital Marketing. But something that specifically can work well is running Paid Social Ads for content on platforms like LinkedIn and Facebook.
Most B2B digital marketers will see very little success in terms of lead generation from just promoting their company profile through PPC on these sorts of platforms. PPC advertising for the company works best for SaaS businesses where the CTA is clear and the friction to the buy is low.
It doesn't work too well if your product as a long sales cycle and requires a lot of consideration. What can work well is Paid Social Ads for a specific types of useful content.
Types of content for Paid Social Advertising
Buyer's Guide - How to choose the right tool
Industry Reports - Trends etc.
Benchmarking Reports
General guides - How to...
These are usually long pieces of content that have been professionally designed. They are often called 'evergreen' pieces of content because they last a long time (they are relevant for a long time).
---
Reporting on Digital Marketing
It can be difficult to know what to report on when it comes to B2B digital marketing. Proving ROI to your leadership team or the founders of the business can be tricky sometimes. It can be especially difficult when dealing with different personalities.
What to report on
The best way to report on B2B digital marketing is to relate it back to business growth. You don't need to go in-depth on every possible data point, just focus on a few that are directly related to business growth. That's why we focus on measuring the number of Marketing Qualified Leads.
Tools for reporting
There are numerous tools you can use to report on digital marketing activity. I've picked some useful free tools you can use without having to spend any money on complicated tools.
Google Sheets
Google Sheets is really powerful and comes with a few useful add-ons like integrations into Google Analytics so you can draw live data in from a few different places. You can create some pretty looking graphs and semi-live dashboards in a spreadsheet which can be used as a reporting dashboard.
Here is a really useful 'how-to' on creating a business intelligence dashboard using Google Sheets and Zapier.
Google Data Studio
Another tool in the Google toolbox, Google Data Studio has kind of come along to replace the dashboards people were originally making in Google Sheets. It looks a bit better, you have more control and there are more integrations into more different apps. You can also share it a bit easier and it doesn't take as long to load as a heavily integrated Google Sheet.
Here is a nice tutorial on creating a digital marketing dashboard with Google Data Studio.
Supermetrics
Now supermetrics is more of a reporting automation tool. So if you are looking into marketing automation you should be looking into automating your digital marketing reports. Supermetrics works with Google Sheets and Google Data Studio to integrate all of your marketing data directly into those platforms.
You can sign up for a free trial to get an idea of what you can do and go from there.
---
B2B Website Design
As you may be well aware your B2B website is the hub of all your digital marketing activity. It's where everything on everyone comes back to. Having a B2B website built for conversion and integrated with your CRM system is essential for any successful B2B business.
B2B Website Example
When thinking about the content on your B2B website. If you are in a traditional B2B business you need to try and get as much of the usual sales process off the phone and onto the website.
This means answering the questions your leads and prospects have that are often asked when they speak to somebody. You want them to have as much information up-front as possible.
Here are the 5 main questions you should be answering on your B2B website.
What is it you are selling?
First, on the list, what is it you are offering the prospect? This should be summarised in your value proposition at the top of your homepage. Ideally summarised in a sentence or two. You may be offering a number of different products but even then they are usually grouped under one umbrella-like "business intelligence software".
An example below from Atlassian's homepage. They are selling tools to help every team unleash their full potential - it's a little bit ambiguous but that's what they are selling.
You can see underneath each individual product is displayed with a short description of what it does and how it can help you.
Can it solve my problem?
This is where you match problem aware visitors with your solution. Tell them how your product can solve their main problems. This is where work on things like buyer personas are key. You need to do the research to understand the pain points of your customers and show how your product can alleviate these pains.
How does it work?
Ok so I can see it can help me with my problem but how does it actually work? Is it complex? Do I need to spend hours learning how to use it or is it easy to pick-up? All these sorts of questions are part of the consideration phase. Also included in here are things like: does it integrate with the software I am currently using? This is a very common question in B2B tech. This is where 'try before you buy' comes in.
How much is it?
An easy one to answer if you are selling cheaper software but more tricky if the pricing is custom or it is very very expensive. But either way you need to address this question as it is part of the qualification criteria. You don't want to spend ages speaking to someone who doesn't have the budget.
How do I buy it?
The call to action. Ok, I'm sold, now what? How do I get in touch with you and get the ball rolling. Or can I buy it myself without having to speak to someone. This is often the big difference between a pure SaaS technology business and one that aspires to be one. If your product requires in-depth installation and lots of training and setup etc. then your probably not on the road to being a SaaS business anytime soon.
Conclusion
If you answer all of these questions on your website and make the answer as obvious and as self-serving as possible then you are on track for growing your business.
Hopefully there is at least some information in this guide that you can find useful. We're expert in helping B2B technology businesses with all aspects of digital marketing. We've worked in-house at fast growing B2B businesses and have experienced some of the same issues you have ourselves.