Content Marketing: A Comprehensive Guide for B2B Businesses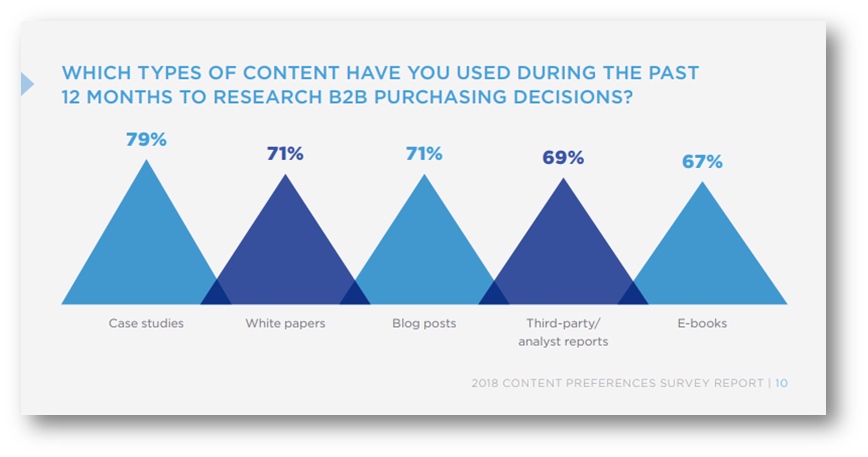 In 1996, Bill Gates penned an essay with a powerful message to businesses — content is still king.
He predicted that the internet would give companies a chance to sell and supply information to customers and that no business would be too small to participate.
Fast forward 25 years and Gates was right—content remains King. In fact, content marketing is overwhelmingly the single-most powerful way for B2B businesses to generate leads. While research suggests that 91% of organizations currently use content marketing, just 43% of successful B2B marketers have a clear, documented strategy in place.
So, why does this matter?
Having a content strategy is the foundation for hitting your B2B marketing goals. It'll give your team a clear blueprint to follow on what content you plan to publish, what channels it'll get promoted on, and what customers you'll be targeting.
In this piece, we're going to break down:
What is B2B content marketing?
Why content marketing is important for B2B companies
The 4 key elements of a B2B content marketing strategy
Where content fits into your B2B marketing funnel
3 B2B content marketing ideas you should steal
Let's get creating
What is B2B content marketing?
B2B content marketing is defined as a strategy for creating, publishing, and distributing content that is valuable, educational, and actionable to a targeted audience that ultimately drives lead generation.
There's a ton of different content types B2B businesses can use for content marketing, including:
Blogs
eBooks
Videos
Podcasts
Case studies
White papers
Online courses
Infographics
An Entrepreneur analysis from earlier this year predicts that this list will expand over the coming decade to include content like voice search-optimized articles, Augmented Reality (AR) experiences, and one-to-one conversations with customers using tools like Facebook Messenger.
According to content strategist Michael Bibla, the key to knowing what types of content to use comes down to two things:
Knowing what information someone is searching for
❓ Understanding the reasons behind why they're searching for that information
Bibla says if you start to dig into these questions, you can begin to find out how they like to consume content. You may find your target audience likes to watch webinars or video tutorials to find out more about a widely-used software tool in your industry.
"This information is great, you now know "what," but are still in the dark as to the "why," he says. "A bit more investigation may reveal that many people in your industry are having a hard time with user-experience regarding the specific technology. Now, you have your in. You can create blog or video content that gets to the heart of this issue. Knowing "why" helps to empower you to develop content that delivers what your client base is really looking for."
So, content marketing = helpful. Got it. It's a way for you to build up trust with your target audience and generate leads.
Yet, what exactly is it about content marketing that makes it so important for B2B companies?
Why content marketing is important for B2B companies
I want you to stop and think about the last time you purchased a product or service from a company.
What did that process look like for you?
I'm willing to guess that it didn't start with a sales rep cold-calling or emailing you. It's more likely that you decided to buy the product because you realized after researching, it was the best fit for your needs. You may have visited the company's website, compared products, and even checked out some customer stories to conclude that yes… that product was the right one for you.
If this path sounds familiar—you're not alone.
A DemandGen Report found nearly half of B2B buyers consume between three to five pieces of content before even making contact with a sales rep. Another report showed that leads are willing to hand over information about themselves, like their name and email address, to get access to information like eBooks, white papers, case studies, and webinars.
All of these stats clearly show that buyers want to research a company and its products. The key to capitalizing on this is actually producing content and making sure that prospects have the information they need to make a purchasing decision.
Forbes writer Josh Steimle says the role content marketing plays in helping people arrive at a purchasing decision can be broken down into four separate steps:
Awareness: where you land on your audience's radar and bring them to your content
Interest: where you build interest in your brand and what you're offering
Decision: where you guide prospects through deciding to become a customer
Action (Purchase): the final nudge to become a buyer
Steimle says content marketing really comes into play in the first two steps of the buying process: awareness and research. He says his company used content marketing to grow over 1,000% in just 12 months because potential clients could scour their content library and find value in it.
"By the time they contact us, they're already convinced they want to work with us," he says. "We don't have to engage in any high-pressure sales tactics, it's merely a matter of working out details, signing an agreement, and getting started. The trust that usually needs to be built up during an extensive sales cycle has already been created before we know the potential client exists."
And that is the most important takeaway for B2B businesses when it comes to content marketing. The goal is to create content that will empower potential customers to make their own purchasing decisions.
The 4 key elements of a B2B content marketing strategy
1. Creating your target customer persona
Before you start creating content—nail down exactly who you're creating it for.
This is especially important when targeting B2B businesses, as etching out accurate customer personas can help you target the right person within a company instead of a gatekeeper. Without customer personas, you'll be left guessing who you are targeting, what content they'll find valuable, and what information they need to help them with their purchasing decisions.
Start by answering some basic questions:
Who is your target customer? What characteristics best describe them?
What is their job and position within a target company?
What kind of industry are they in?
What type of company do they work for?
What level are they at the company? Are they a key decision-maker like a CEO, or are they further down the line?
How long have they been at the company?
These answers will allow you to start shaping the basics of a target customer persona. After all, content that targets a company's CEO will look a lot different than content aimed at someone on a marketing team.
Next, put yourself in your target customer's shoes:
What problems are they trying to solve?
What is stopping them from being as successful as possible in their role?
Can your product/service help them overcome those obstacles?
What goals do they want to achieve in their position?
You can use a tool like HubSpot's Make My Persona Tool to create digital target personas based on age, industry, goals, education, and biggest challenges. The end result will be something like this:
Once you have your target personas sorted, you need to focus on creating content around keywords.
2. Have a strategy to find optimized keywords
Keyword research is our thing here at 93x. As a b2b digital marketing agency, we think it's one of the most important steps of an entire content marketing strategy.
Without it, most content goes unread and is essentially wasted. This is a major problem for companies—Sirius Decisions found 60–70% of all B2B content goes unused. Talk about flushing money down the drain.
You can use tons of tools to find keywords that people are looking for and then figure out how hard it'll be for that content to rank in a search engine like Google. For example, a tool like Ahrefs will break down a keyword's search volume, difficulty, and even give you suggestions:
Here at 93x, we mainly use SEMRush's Keyword Magic Tool to find keywords. If we're investigating a keyword we're thinking of writing a piece of content around, the tool breaks down the number of monthly searches (on average) in the UK and also gives us a rough estimate of how competitive the term is:
From there, it's easy to weed out what people are actually searching for using cold, hard data. That way, we're not wasting our time crafting lengthy blog posts about topics nobody cares about!
Pro-tip: Getting pieces to rank in Google is a whole other topic that deserves its own blog post. Check out our detailed breakdown of how to get your B2B content to rank in Google using search engine optimization (SEO) tactics here.
3. Craft valuable, consistent content
When Content Marketing Institute Founder Joe Pulizzi was researching for his book Content Inc., he came across a startling realization.
It takes a minimum of nine months for content marketing efforts to start to drive revenue into a business. On average, it took a year and a half. Why?
"It takes time to build an audience," he says. "If you aren't delivering consistently to your audience, you are not content marketing."
Stats now show that 61% of marketers publish content multiple times a week, and consistently producing content can also help boost your B2B SEO efforts. However, coming up with new content ideas isn't a walk in the park. A tool like BuzzSumo's Topic Explorer scrapes data in real-time across major social networks and gives you a word cloud full of content ideas to work with:
If an idea on the list seems interesting, the tool will then break it down further into a graph of relevant articles, questions, and keywords:
Once you have a topic that you know will connect with your target audience and has the right keywords, all that's left to do is create actionable content with a purpose.
4. Get your content seen through promotion
Even after you gather keywords and write content consistently, you still need to promote it to your audience.
According to a study by CMI and Marketingprofs, B2B marketers said their most effective content distribution channels were LinkedIn, Twitter, and YouTube.
So, plan a way to promote content around the platforms where your target audience hangs out and where it's going to be successful. If your company has a lot of followers on LinkedIn, use that to your advantage and post content using LinkedIn's blog feature.
On the flip side, if a lot of your target customers are on Twitter, don't be afraid to repurpose content on there to get some traction as we do on our 93x feed:
Where content fits into your B2B marketing funnel
Now, just because you've got some strategy in place doesn't mean you should just dump a bunch of content on your site and move on.
To make your content marketing strategy successful, it's crucial to figure out where each piece of content fits into your B2B marketing funnel. Ideally, you should aim to build an all-round content strategy that targets customers at every stage of their buying journey—from awareness to purchase.
You might be used to seeing a content marketing funnel that looks like this:
However, a B2B content marketing funnel looks a little different:
Gartner explains the more complicated funnel is because when B2B businesses make a purchase, it doesn't happen in a predictable, linear order.
"Instead, customers engage in what one might call "looping" across a typical B2B purchase, revisiting each of those six buying jobs at least once. Buying jobs doesn't happen sequentially, but more or less simultaneously."
Nevertheless, you can still break down content to fit into three stages of your funnel: awareness, interest, and decision.
Content for stage #1: Awareness
A potential customer has just realized your product exists.
At this stage, any content you produce needs to focus on them, their problems, educating them, and providing them with information. Now isn't the time to sell your product or even mention it. It would help if you focused on producing content like how-to guides, long-form educational blog posts, and downloadable white papers that help people answer questions on their own.
The goal here is to build up trust with potential clients and introduce you as a knowledgeable business within their industry.
Types of content that work best in the awareness stage: How-to guides, educational blog posts, ebooks, podcasts, and white papers
Content for stage #2 :Interest
Now that the potential customer knows that you exist, it's time to introduce your product into the mix.
At this stage, they'll be looking for actionable ways to solve their problem. For example, people who land on our website are looking for information about content marketing. Besides providing educational content, we also make the reader aware of our agency's features and functions.
Types of content that work best in the consideration stage: How-to guides and videos, infographics, downloadable templates
Content for stage #3: Decision
The potential customer not only knows your brand and trusts you—they're ready to buy.
It's your job at this stage of the buying journey to convince your customer that your product will do what it says on the tin. You can reinforce this by sharing customer success stories that show just how great your services or products are. If a potential buyer is still on the fence, you should also have a buying guide ready to send to answer any final questions they may have.
Types of content that work best in the closing stage: Customer success stories, case studies, buying guides
3 B2B content marketing ideas you should steal
1. Treat your blog as an investment
Like we highlighted earlier, content creation is a long game.
Don't expect to see instant results. It'll take months before you see any progress at all with content you publish on your website. That's why looking at your blog like an investment is so important.
Spending time creating actionable, trustworthy content with relevant keywords will take time, but it'll pay off in dividends down the road.
When Drift launched its blog in October 2015, they were getting a whopping… 198 visitors to the site. The team knew that the blog could be its bread and butter in the future (ahem, they were right), so they spent a lot of time writing high-quality content for the site.
For ten months after launching the blog, Drift's team spent their time writing just over 200 blog posts. After a painstaking grind to keep publishing content consistently, Drift's content team started to notice a pattern was emerging. The content they had invested in for months.... Was starting to show up in their analytics.
Once it got to June, the numbers were clear. Content published in October, November and December made up nearly 25% of the blog's overall traffic:
Former VP of Marketing Dave Gerhardt says what made it even more interesting was a lot of the traffic was coming from a single article about product marketing. Rather than slow down, that article continued to climb in clicks and impressions as time went on:
"That's one example from one post to show how the investment in blogging pays off: it compounds over time," Gerhardt says. "The work we put in to write that post in October is still paying off today, but if we were running ads in October and then stopped them, the traffic would stop too. That's not the case for content. This is something that we knew about content going in, but free traffic and free leads have a different ring to them when they're actually for your business."
Less than ten months after the blog was getting under 200 visitors, 27,369 people were reading Drift's content on their blog.
The content lesson: Look at your blog like a stock portfolio. Don't expect results immediately. Instead, make sure you are investing in good content early, so you'll benefit from those efforts compounding over time!
2. Target your educational content to high-revenue buyer personas
We've already talked about how important educating potential customers is.
Not only is it a brilliant way to generate leads for your business, but it can also help build up trust with your brand. Yet what about turning this strategy on its head… and targeting customers who are likely to bring in more revenue?
That's exactly what MailChimp has done with its educational content, which helped snag the company around $700m in revenue last year. Their first step was figuring out what customers spent the most on their platform, which turned out to be freelancers and agencies.
Then, they created an entire learning platform to help these two target audiences solve problems like branding, social media, and audience growth.
The reason MailChimp's content strategy has been so successful (the site ranks for 43k+ organic keywords!) is that they've written about stuff nobody else has. For example, MailChimp ranks for search terms like "re-engagement campaign" against competitor sites like HubSpot.
The reason MailChimp crushes it is because they're catering to their specific audience: freelancers and agencies. Here's what readers will find if they head to the top two results:
Yet this is what MailChimp ranks for:
Their content strategy is focused on this keyword ranking for a specific problem their target personas want to solve: re-engaging inactive subscribers. Instead of casting a wide net, MailChimp's content is all about targeting personas with strategic, actionable, problem-solving articles.
The content lesson: You don't always have to stick to broad educational content pieces. Be bold and write blog posts or articles on your knowledge base that target specific issues your customers deal with daily.
3. Champion your customer's stories
This might come as a surprise, but the single most effective type of content is customer case studies.
LinkedIn's Demand Gen Report 2018 found B2B buyers prefer case studies over other types of content like white papers and blog posts.
Why is this?
The reason could be as simple as Seth Godin's famous anecdote: Marketing is no longer about the stuff that you make, but about the stories you tell.
Championing your customer's stories in your content strategy isn't just about building trust in your brand. It's also one of the most effective ways to lead a potential customer down the sales funnel and into the final decision phase.
Now, there are a lot of ways you can create persuasive case studies to tell your customer's stories. You can record a video or get them to write out a short testimonial you can put on your page. However, the most engaging case studies tell a story from a customer's initial problem and weaves your product into the narrative as a solution that the customer can no longer live without.
Look at this example from Front, who feature HootSuite as a success story on their website:
At the top of the case study, the reader is given a quick summary of the company's initial problem and how Front solved it. A couple of paragraphs down, Hootsuite's problem is explained in more depth. Then, the story incorporates how Front solved the initial problem and includes quotes from the customer:
This is super important.
Your customer's voice should always be given space in your case studies as potential customers are more likely to trust reviewers over vendors.
Case studies don't need to be novels. You should be able to tell a compelling story that captures the problem, solution, and how your product helped in under 1000 words. The most crucial part is making sure your customer's voice is heard.
The content lesson: Case studies are the underdog of the content world. KlientBoost's Dale Cudmore said it best when he described case studies as testimonials on steroids. They are the most influential piece of content for B2B businesses in persuading potential customers to buy a product—make sure they're a core part of your content strategy.
Wrapping Up
B2B content marketing is a long game.
Not only do you need to have a strategy and a clear idea of who you are marketing for… but you gotta have patience.
It'll take months before you see any meaningful results from your content efforts. But remember, investing in your blog early, strategically targeting customer personas, and sharing success stories will all help build the case that yes, your business is trustworthy and yes — it solves problems.
To find out more about how we can help you build a B2B content marketing strategy that's ready for the new decade, get in touch today.